OUR STORY
In 2018, our AlphaGraphics team began to search for a worthy business in need of a makeover for their storefront or employee-facing area. After a nationwide search for a grand prize winner, we chose a very special nonprofit in the beautiful city of Chicago, First Slice Pie Café. We got to work right away, utilizing a number of our signature AlphaGraphics capabilities, and began to refresh the brand in a way that more effectively spotlights the mission they serve. Ultimately, we were able to help First Slice put their best foot forward in a way that created the greatest possible impact. Watch the full story and the video below.
FIRST SLICE PIE CAFÉ -
CHICAGO, ILLINOIS
The folks at First Slice Pie Café, who receive as much recognition for their efforts to feed the hungry as they do for their decadent and indulgent pies, could not be more deserving winners. Both a bakery and a self-funded charity, First Slice feeds more than 300 people in need every week thanks to the support of a group of subscribing shareholders who purchase set amounts of home-cooked meals from the cafe.

"It still hasn't sunk in yet that we won, and that we'll be able to do so much more for our community. One of our main goals is to draw as much attention as possible to who we are and what we do, and this brand makeover is a really remarkable way to help get the word out."


Ann-Louise Haak
Executive Director of First Slice

THREE STEP TRANSFORMATION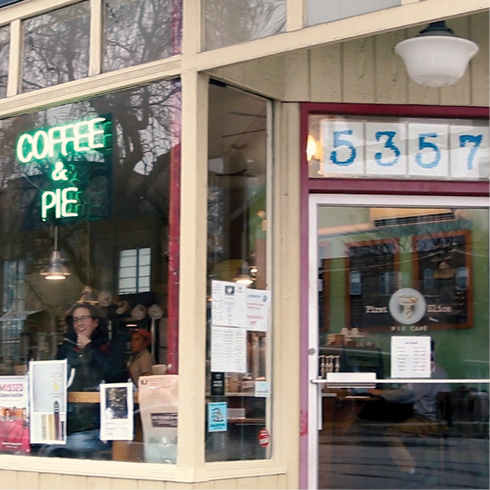 Step 1: Reviewed the First Slice storefront and marketing collateral
Right away, we got to work on an in-depth, onsite consultation. We studied the interior and exterior environments to determine how best to apply large format graphics and signage to impact business, to better connect the cafes message to the community, and to truly make an incredible makeover for such an amazing cause.
THE BIG REVEAL
Finally the big day arrived! In the cool, predawn hours, a line of fans formed that stretched all the way down the block. Everyone was excited for the big reveal and, of course, for the free slices of pie that came along with the grand opening. After a thrilling countdown, the moment arrived— the curtain came down and the new face of First Slice Pie Café was revealed for all the community to see!
ENTER TO WIN A MAKEOVER OF YOUR OWN
AlphaGraphics is on the hunt for a new deserving business we can award a $10,000 AG Makeover. There's no better way to kick off 2020 than to have the experts from AlphaGraphics help you, and your business, put your best foot forward.